Jurassic World: Dominion Dominates Fandom Wikis - The Loop
Play Sound
The 51st Annual Karate Championships, or the 2019 All Valley Karate Tournament, celebrates the 51st year of the All Valley Under 18 Karate Tournament in the San Fernando Valley, California. It took place on May 18th, 2019, with over a dozen dojos competing. The grand champion was Cobra Kai Dojo.
The competition was held in the final two episodes of Season 4.
Overview
The All Valley committee held a meeting to discuss the impending changes that needed to be made for the 51st annual championships. Their meeting, while tumultuous at points, had a productive outcome. They decided to divide the sparring tournament into two divisions - a male and a female division, for a total of two champions. They also introduced a skills competition that included Kata, board breaking, and weapons display. A third trophy was introduced, the Grand Champion trophy, awarded for whichever dojo won the most points.
Skills Competition
Miyagi-Do, Cobra Kai and Eagle Fang each show off different skills in the skills competition. Miyagi-Do students Demetri and Sam show off their weapon skills, Chris and Eli demonstrated their board breaking skills, and Nathaniel performs a kata technique. Cobra Kai and Eagle Fang also show off their offensive skills such as weapons, combinations, board breaking, and kata. Initially, Miyagi-Do and Eagle Fang are in first and second place, respectively, while Cobra Kai is in 6th. However, as the competition progresses, Cobra Kai regains their bearings, while Miyagi-Do and Eagle Fang, most notably the latter, struggle. In the end, Cobra Kai wins the skills portion of the tournament, Miyagi-Do comes in second, and Eagle Fang falls to 6th. Cobra Kai's victory gives them an early lead for the title.
Preliminary Rounds
In a montage of preliminary fights between both boys and girls divisions, Miyagi-Do, Eagle Fang, and Cobra Kai not only took on each other to qualify for the finals rounds, but took on opponents from other San Fernando Valley dojos such as Topanga Karate, Krunch Karate, Xtreme Martial Arts, and Locust Valley Karate Club. Although Sam, Demetri, Eli, Robby, Tory, Kenny, Miguel, and Devon Lee are shown defeating their opponents easily, Bert of Eagle Fang Karate is easily defeated by a Krunch Karate student.
Samantha LaRusso, Eli Moskowitz, and Demetri Alexopoulos of Miyagi-Do easily advance to the quarterfinals, which leaves only three Miyagi-Do fighters left consisting of Chris, Nathaniel, and an unnamed student. However, Chris, Nathaniel, and an unnamed Miyagi Do student are easily defeated by Cobra Kai students Kyler Park, Kenny Payne, and Jake respectively, who have used Miyagi-Do techniques under Robby Keene. The Cobra Kai students who advanced to the final rounds are Tory Nichols, Kyler Park, Piper Elswith, Robby Keene, and Kenny Payne. For Eagle Fang, only two students qualified; Miguel Diaz and Devon Lee. Post, Gonzales, and Powers of Locust Valley qualify for the boys and girls quarterfinals. All Star Karate only had one fighter who qualified for the boys division finals by the name of Robson. Xtreme Martial Arts only had one female fighter by the name of Murphy who qualified for the girls quarterfinals, while Topanga Karate also had one girl qualify by the name of Krupa. Other fighters such as Abe, Mitch, and Edwin, among others, of the Miyagi-Do, Eagle Fang, and Cobra Kai dojos had little success and didn't qualify for the final rounds, leaving them as spectators for the matches.
Boys Division Finals
These sections are a brief overview of each of the most notable sparring matches involving the core characters.
Robby Keene vs Kenny Payne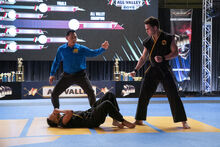 Despite being members of the same dojo, Robby and Kenny are the first match in the quarterfinals. In the first round, Kenny wins due to Robby's restraint. Sensei Kreese calls a timeout and reminds Robby to be a champion, which Robby agrees to follow through. In the second round, he immediately scores a point by delivering a front kick to Kenny's face. In round three, Kenny puts up a fight, but is still easily beat by Robby. In round four Robby fights defensively against the smaller fighter, before finishing his opponent off to win the match, resulting in Kenny's bloodied nose and shocking the whole crowd. As a result, Robby moves forward to the semifinals.
Eli Moskowitz vs Kyler Park
Eli and his former bully Kyler face off in the quarterfinals. In the first round, Kyler dodges Eli's punch and counters two of his strikes, before being hit by Eli, giving the latter the first point. In the second round, Kyler runs at Eli, only to be kicked by the latter, giving Eli his second point. In the third round, Kyler is kicked by Eli, giving Eli his 3rd point and the easy win. Eli then advances to the semifinals.
Eli Moskowitz vs Miguel Diaz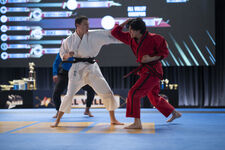 Former Cobra Kai and Eagle Fang classmates Eli and Miguel are the first match in the semifinals. In the first round, they are evenly matched until Miguel knocks Eli down, though no point is awarded due to a block. Miguel prepares to deliver a kick, but ends up pulling a muscle and collapsing. As he writhes in pain, the medic tends to Miguel's injury. While he appears to be healing, he decides to go home and not return out of respect for his injury. The tournament holds a one minute countdown, and when Miguel fails to return, Eli wins by default and advances to the finals. This match also marks the last Eagle Fang dojo member's elimination.
Robby Keene vs Demetri Alexopoulos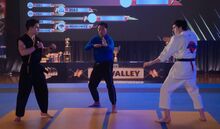 Former Miyagi-Do classmates Robby and Demetri are the second match in the semifinals. In the first two rounds, Robby easily scored two points. After the ref gives both fighters a timeout to go talk to their sensei's. After being advised by Daniel to go back to his fundamentals, Demetri fights better and takes Robby down in the third round, but Robby recovers and defeats Demetri. Robby advances to the finals.
Robby Keene vs Eli Moskowitz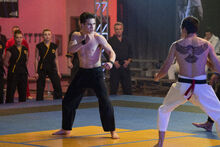 The final round in the boys division is between Robby and Eli. In the first round, Robby utilizes Miyagi-Do Karate to win the first point. Eli calls a timeout and tells Daniel that Robby has more experience at Miyagi-Do, but Daniel reminds Eli that he was at Cobra Kai longer. Eli follows his advice and wins the second point. The third round proves to be long and fairly even, both blocking or dodging the other's attacks. Eventually, Eli takes Robby down, but time runs out, leading to a sudden death match. The round intensifies, with both competitors removing their gi; Robby for practical reasons as his gi kept falling off, and Eli to match his opponent while showing off his hawk tattoo. Robby initially gains the upper hand in the sudden death, and is in a position to win. However, after being distracted by Kenny, Eli recovers and kicks Robby off him. The two resume their fight, and Eli ultimately defeats Robby with a kick. This marks his victory as the first male champion of the All Valley tournament which results in the audience cheering wildly. His victory also causes Miyagi-Do Karate to jump in the lead for the All Valley title, meaning that if Miyagi-Do wins the girls division, then they become the grand champion.
Girls Division Finals
These sections are a brief overview of each of the most notable sparring matches involving the core characters.
Tory Nichols vs Devon Lee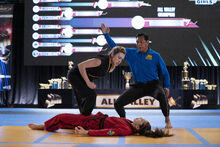 Tory and Eagle Fang rookie Devon face each other in the quarterfinals. Tory scores a point on Devon, giving her a 2-0 lead, though Johnny complains to the referee about Devon being out of bounds prior to her being hit. Tory then wins in the third round to make it to the semifinals, and eliminate Eagle Fang from winning the tournament in the girls division.
Samantha LaRusso vs Piper Elswith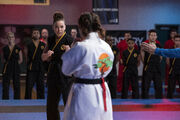 Samantha and Cobra Kai rookie Piper are the next match in the quarterfinals. In the beginning, Piper uses her gymnastics in order to throw off Sam. Even though she scores the first point, Samantha uses her Miyagi-Do defense and then utilizes Eagle Fang offense to defeat Piper, advancing to the semifinals.
Tory Nichols vs Samantha LaRusso
The final match of the tournament is the girls championship between Sam and Tory. Sam wins round 1, while Tory wins rounds 2 and 3. After being down 2-1, Sam goes to Daniel and Johnny, and Daniel tells her to use both Miyagi-Do and Eagle Fang techniques. Samantha does so in round 4, but after hitting Tory who goes out of bounds after being hit, the referee says no point due to Tory being out of bounds, much to the annoyance to Johnny who accurately argues that Tory wasn't out of bounds prior to the hit and results in boos from the audience. Sam wins round 5. When tied 2-2, Tory hits Sam in the eye in round 6, but does not even get a penalty, much to the annoyance of Johnny who argues that should be a point deduction. Terry tells her to elbow her other eye but Tory counters that she doesn't need to cheat to win. Kreese hears this and has a change of heart after realizing his past mistakes with Johnny Lawrence. He orders Silver to let her do what she wants and tells her that it's up to her to gain victory. Tory beats Sam in round 7, leading to her becoming the girls champion and Cobra Kai being the grand champion. In a surprise moment after Tory is declared to earn the third point, she asks Sam if she is physically okay.
Aftermath
Revelations
With Cobra Kai having won another championship, a proud Terry Silver announces that he'll be opening up a string of Cobra Kai dojos throughout the valley so everyone can come and learn the way of the fist. After celebrating her win, Tory sees Silver paying the referee for throwing his calls in favor of Cobra Kai. She becomes upset and shocked when she realizes she didn't truly win the trophy.
Silver brought Kreese to his mansion where they began drinking a bottle of champagne to celebrate their win. The celebration turns into an argument when Silver began questioning Kreese about his relationship with Johnny Lawrence, as well as their friendship during the Vietnam War. However, Terry Silver reveals that Kreese is his own weakness, and betrays him by handing him over to the authorities. Silver had successfully framed Kreese for the assault and attempted murder of a disgraced former student. Silver promises that he'll take care of the dojo while Kreese handles his legal troubles. Kreese shouts at Silver as he's dragged away by multiple officers.
Daniel's Decision
Daniel, having made a deal with Kreese and Silver to close Miyagi-Do and retire as a sensei if he lost, now has to honor the deal he made with dishonorable men. He can't bring himself to close the dojo and instead, recruits Chozen Toguchi from Okinawa to help him defeat Cobra Kai once and for all.
List of Results
Boys Division
Girls Division
Dojo Results
Trivia
Grammy-award winning superstar Carrie Underwood performed during intermission.

The crowd was unaware of Carrie Underwood appearing or performing so the reaction from the crowd was genuine.[1] Also in a behind the scenes look, the cast members explain the fighting and the stunts the tournament got involved in, especially the friendship between the actors off set.

Robby and Eli's sudden death match is the first to happen since the 1985 All Valley tournament.[2][3]
With Cobra Kai Dojo being the grand champion of the tournament, they now have six titles.
Several students who previously participated in the 2018 All Valley tournament returned to the 2019 All Valley. However, Miguel Diaz and Bert now represent Eagle Fang Karate, while Eli Moskowitz and Abe represent Miyagi-Do, and Robby for Cobra Kai.
Miguel Diaz is the only student to not witness the boys or girls finals.
Besides Cobra Kai competing once more, Miyagi-Do Karate made their full debut in the 2019 All Valley Tournament.
An alternate ending that was shown at the Cobra Kai: Live & Badass event at Microsoft Theater showed Samantha LaRusso beating Tory Nichols 3-2, winning her first All Valley Female title and giving Miyagi-Do the grand championship. This wasn't an original scene that was changed, but was filmed before the real ending so the audience watching the tournament won't be spoiled by it during its premiere.
Gallery
References