This article is about the television series. You may be looking for the organization, Cobra Kai Dojo.
Cobra Kai


Information

Genre

Comedy-drama
Martial arts
Action comedy

Created by

Based on

The Karate Kid series by Robert Mark Kamen

Starring

Country of origin

United States

Original language(s)

English

No. of seasons

5

No. of episodes

50

Executive producer(s)

Ralph Macchio
William Zabka
Will Smith
James Lassiter
Caleeb Pinkett
Susan Ekins
Josh Heald
Jon Hurwitz
Hayden Schlossberg

Producer(s)

Katrin L. Goodson
Bob Wilson

Editor(s)

Nicholas Monsour
Jeff Seibenick
Ivan Victor

Production company(s)

Hurwitz & Schlossberg Productions
Overbrook Entertainment
Heald Productions (Season 2)
Sony Pictures Television

Distributor

Sony Picture Television

Original network

YouTube Red (Season 1–2)
Netflix (Season 1 - 5)

Picture format

4K (UHDTV)

Original release

May 2, 2018 – present
Cobra Kai is an American comedy-drama web television series based on the 1984 The Karate Kid film series, created by Robert Mark Kamen. The first season premiered May 2, 2018 on YouTube Red. The television series takes place 34 years after the original film and follows the reopening of the Cobra Kai karate dojo by Johnny Lawrence and the rekindling of his old rivalry with Daniel LaRusso. The series was created by Jon Hurwitz, Hayden Schlossberg, and Josh Heald and stars Ralph Macchio and William Zabka reprising their roles as Daniel LaRusso and Johnny Lawrence from the films respectively.
On May 10, 2018, it was announced that the series had been renewed for a second season of ten episodes that premiered in 2019. On May 2, 2019, YouTube renewed the series for a third season[1] and on June 22, 2020, it moved to Netflix with the first two seasons being available on August 27, 2020.
The third season released on January 1, 2021. In October 2020, the series was renewed for a fourth season ahead of the third season premiere.[2] and a fifth season in August 2021.
Premise
Set thirty-four years after the events of the 1984 All Valley Karate Tournament, when a down-and-out Johnny Lawrence seeks redemption by reopening the infamous Cobra Kai karate dojo. The move reignites his rivalry with a now successful Daniel LaRusso, who has been struggling to maintain balance in his life without the guidance of his now-deceased mentor Mr. Miyagi.[3] The show is about two men addressing past demons and present frustrations the only way they know how: through karate."
Running parallel to the conflict are the story arcs of Johnny and Daniel's students. Johnny opens a new Cobra Kai dojo that attracts a group of bullied nerds and social outcasts who find a camaraderie and self-confidence under his tutelage, but there are some who take his aggressive philosophy too far, in particular his star pupil, Miguel Diaz. In contrast, Johnny's estranged son, Robby Keene, comes under the wing of Daniel, who hires the boy at his car dealership, initially not knowing that Johnny is his father. Daniel eventually proves a positive influence to the boy, teaching him Mr. Miyagi's philosophy of balance. Meanwhile, Daniel's daughter, Samantha, is caught in the middle of these conflicts as she learns who her true friends are and a better path to follow.
Cast
Starring
Recurring/Supporting
Guest
Pat Morita, Chad McQueen, Danny Kamekona, Nobu McCarthy, Robyn Lively and Sean Kanan appear via archive footage from the films as Mr. Miyagi, Dutch, Sato Toguchi, Yukie, Jessica Andrews and Mike Barnes respectively.
Episode Guide
Reception
The series has been met with highly positive critical acclaim from both critics and the public at large . On the review aggregation website Rotten Tomatoes, the first season holds a 100% approval rating with an average rating of 7.29 out of 10 based on 22 reviews. The website's critical consensus reads, "Cobra Kai continues the Karate Kid franchise with a blend of pleasantly corny nostalgia and teen angst, elevated by a cast of well-written characters." Metacritic, which uses a weighted average, assigned the season a score of 72 out of 100 based on 11 critics, indicating "generally favorable reviews." Cobra Kai has been praised for combining throwbacks to the original films with fresh, new storylines, combining different generations and time periods as well as dealing with dark and serious themes.
Awards and Nominations
Merchandise
Cobra Kai: Seasons 1 & 2 DVD
Two versions of the Season 1 & 2 DVD were released. The first being a simple DVD set that includes the entire first and second seasons. The secon was a collector's edition DVD box set. The collector's edition had four discs, a two-sided headband in which Miyagi-Do's logo faced one side and Cobra Kai's logo faced the other. It also included exclusive uncensored bonus features and a slipcover.
Diamond Select Action Figures
Fans of the Netflix series Cobra Kai can enter their favorite dojo with this debut box set of Cobra Kai action figures. The front of the box shows Johnny Lawrence and John Kreese in the Cobra Kai dojo, but open it up farther and see Daniel LaRusso in the Miyagi-Do Karate dojo! Each 7-inch action figure comes with interchangeable hands and display stands, and the box comes packaged in a protective sleeve. Figures sculpted by Chris Dahlberg and Rocco Tartamella. Package design by Jack Tsai Limited to 4000 pieces.
Sold by Toynk via Target.
TMNT vs Cobra Kai
Teenage Mutant Ninja Turtles vs. Cobra Kai Sold by Target, BestBuy, Amazon, and Entertainment Earth.
Does the team from the sewers of NYC the Teenage Mutant Ninja Turtles really have the chops to take down team Cobra Kai at the All-Valley Karate Championships and rule the Valley?
Donatello vs Johnny Lawrence: Donnie and Johnny Lawrence stand 6" tall and are fully poseable. Donnie features 34 points of articulation. Johnny features 16 points of articulation. Donnie is dressed in his white fabric tournament GI with team Turtles insignia on front and back. Johnny is dressed in his signature Cobra Kai Gi with Cobra Kai logo printed on his back. Donnie comes with his inconic bo staff. Johnny's Gi is authentic as seen in the hit Cobra Kai series on Netflix.
Michaelangelo vs Daniel LaRusso: Mikey and Daniel LaRusso stand 6" tall and are fully poseable. Mikey features 34 points of articulation, Daniel features 16 points of articulation. Mikey is dressed in his white fabric tournament Gi with team Turtles insignia on front and back. Mikey comes with his iconic nunchuk's. Daniel's Gi is authentic as seen in the hit Cobra Kai series on Netflix.
Raphael vs John Kreese: Raph and John Kreese stand 6" tall and fully poseable. Raph features 34 points of articulation, John features 16 points of articulation. Raph is dressed in his white fabric tournament Gi with team Turtles insignia on front and back. Raph comes with his iconic twin sais. John's GI is authentic as seen in the hit Cobra Kai series on Netflix.
Leonardo vs Miguel Diaz: Leo and Miguel Diaz stand 6" tall and are fully poseable. Leo features 34 points of articulation, Miguel features 16 points of articulation. Leo is dressed in his white fabric tournament Gi with team Turtles insignia on front and back. Miguel is dressed in his signature Cobra Kai Gi with name and fist insignia printed on his front and Cobra Kai insignia printed on his back. Leo comes with his iconic twin katana sword accessories. Miguel's GI is authentic as seen in the hit Cobra Kai series on Netflix.
Loot Crate
In anticipation for the fourth season release, The Loot Company partenered with Netflix and Sony Pictures Television for a limited edition crate series featuring officially licensed and exclusive Cobra Kai apparel and collectibles. It features three variations, so fans can choose from Cobra Kai, Miyagi-Do, and Eagle Fang.
Cobra Kai never dies! Get a badass mix of exclusive, officially licensed apparel and gear from the hit show delivered to your door every other month in this limited edition 3-crate series.

The Cobra Kai Limited Edition Crate Series is a one-time-only series featuring exclusives you won't find anywhere else. Step into the dojo and bow to your sensei with items and gear that include everything you need to get you prepped for the All Valley Tournament. Each crate will cost $59.99 plus shipping that will be delivered to your door every other month starting in April 2022.
Fortnite
The following links redirect to the Fortnite Wiki.
The Cobra Kai Set adds 10 new outfits, each of which can be altered to represent the dojo of your choosing: Cobra Kai, Eagle Fang, or Miyagi-Do. The five male and five female outfits are available in two separate bundles for 2,000 V-Bucks ($20 USD) each. Alternatively, individual outfits can be purchased for 800 V-Bucks ($8 USD).

Accessories are also available, individually or in the Cobra Kai Gear Bundle! Display Mr. Miyagi's teachings with the dynamic Teachings of Miyagi Back Bling, intimidate with the Cobra Coin Back Bling, promote the Cobra Kai Dojo with the Dojo Logo Pickaxe, strike with sharpness with the Cobra's Curse Pickaxe, and believe that you're the best around with The Crane Kick Emote. All the new gear can be purchased as a bundle for 1,500 V-Bucks ($15 USD), while individual accessory prices range from 200-800 V-Bucks ($2-8 USD)

Among the ten Outfits are Karateka Jones, learning karate to defend reality, as well as Heron Stance Hero, known for her honor. The Cobra Kai Set Outfits can be purchased individually or as part of the Karate KO and Dojo Showdown Bundles.
Pley Beauty
This limited edition Cobra Kai makeup line is the best of both Pley Beauty and Cobra Kai. With series star Peyton List modeling and promoting, the line includes several Cobra Kai nods and quips.
Fasten your Gi, Pley Beauty has entered the tournament…

Strike first with high impact pigments that flex to create bold looks or scale back for a perfect dojo to class finish with powerful yet clean ingredients for a fresh face and healthy skin.

The ultimate Cobra Kai™ collection that features our 4 special edition products that allow you to go from dojo to drama, plus our Karate Gi inspired tote bag with logo patch to carry these essentials.
Collection Includes:
Cobra Kai™ Pleyer Palette | $38 Value
Cobra Kai™ Lip Habit | $22  Value
Cobra Kai™ Energizing Facial Mist | $24  Value
Cobra Kai™ Sweep the Cheek Highlighter | $22  Value
Cobra Kai™ Karate Tote | $42  Value
Cobra Kai Concert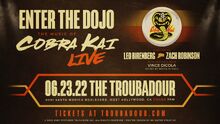 Enter the Dojo: The Music of Cobra Kai Live is a one-night only musical event hosted by series composersLeo Birenberg and Zach Robinson. The ticketed concert takes place on June 23, 2022, at the Troubadour. Vince DiCola, composer of "Staying Alive" and "Rocky IV," will also give a special performance with his band at the concert. Becca Schack is set to serve as the house DJ. General admission tickets will be sold for $30 and will go on sale Friday, May 6, at 10 a.m. PT on the Troubadour website. There will be additional VIP ticket options for meet-and-greet opportunities with Birenberg, Robinson and DiCola.[8]
Notes and Trivia
The creators of the show refer to Cobra Kai as an extension of the "Miyagi-verse", so any character that interacted with Mr. Miyagi or his direct peers are canon for the show. The characters acted by Jackie Chan and Jaden Smith are not in the same universe since it was a remake. On the flipside, Julie Pierce, who appeared in the spin-off of the original trilogy is canon due to interacting with Mr. Miyagi.[9]
References
External links