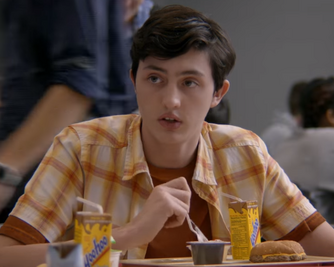 Demetri
is a secondary character in the Cobra Kai web series. He is one of the main members of
Miguel's
high school friend group in Season 1.
Demetri is portrayed by Gianni Decenzo.
Fictional Character Biography
Edit
Cobra Kai
Edit
Demetri is a member of Miguel's high school friend group and particularly close to Eli "Hawk" Moskowitz. He is very articulate and intelligent but also strongly sarcastic and not inclined toward physical activities. Demetri has very low self-esteem but is almost resigned to his role as a nerd, though he plans to get a "good job and a super hot girlfriend" several years after graduating college. Demetri claims that he hates talking to girls, and that it is even "intense" when talking to his mother. Demetri has a huge crush on Yasmine, but refuses to approach her until almost the end of the first season, after being inspired by the first rule of the Cobra Kai dojo: "Strike First". Despite being rejected, Demetri claims that the attempt "went pretty well". Demetri joins Cobra Kai on Miguel's suggestion, only to quit on the first day of training after being humiliated by Johnny. However, in the Season 1 finale, Demetri proposes the idea of joining up with Cobra Kai again because he likes "the safety-in-numbers aspect of joining a gang".