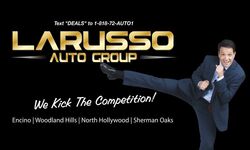 "LaRusso Auto Group. We kick the competition."
The LaRusso Auto Group is a chain of car dealerships located around Los Angeles, California.
Description
It was opened in 2002 by Daniel and Amanda LaRusso, and they expanded to North Hollywood, Encino, Sherman Oaks, and Woodland Hills. They are known for their low prices and wide variety of cars including Mercedes-Benz, BMW, Audi, Acura and Porsche. Daniel often used a karate theme as a gag for the dealership, where a TV commercial was shown of Daniel "karate chopping" high prices. Johnny Lawrence privately found such advertising cheesy.
Through a turn of events, Johnny's Pontiac Firebird was totaled by an SUV driven by a distracted teenage girl named Yasmine, who was a friend of Daniel's daughter. The tow truck driver towed Johnny's car to the nearest autobody shop, which was the service bay of the Larusso Auto Group. Mortified, Johnny attempted to retrieve his car to take it to a rival dealership, only to be discovered and reunited with Daniel. Daniel convinces Johnny not to take his business elsewhere when he offers to do repairs on the house, claiming a now-vintage automobile like his would be challenge to the service employees.
Some time later, Louie LaRusso, Jr., along with a group of bikers, had torched Johnny's car. When Daniel learned his cousin was responsible, he sought to make restitution to Johnny by giving him the keys and the pink slip to any car on the lot of the LaRusso Auto Group. Johnny ended up choosing a 2009 Dodge Challenger.
Employees
Vehicles Sold
It is presumed that Daniel and Amanda's Audi S7, S5 and Q5 were all purchased through their dealership, as well as Samantha's BMW 4. It is also mentioned that Mr. Robinson was sold an Audi Q5 by the dealership as well. Other vehicles sold include a Porsche 911, Subaru Outback, and Dodge Challenger.
Community content is available under
CC-BY-SA
unless otherwise noted.