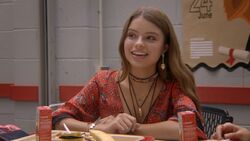 Moon is a recurring charecter in
Cobra Kai
. She is
Yasmine
's best friend.
Early Life
Edit
Moon was raised in Encino Hills and attends West Valley High School
Cobra Kai
Edit
Moon was a passenger in Yasmine's car, along with Samantha LaRusso, when Yasmine crashed into the Firebird belonging to Johnny Lawrence. She, like her friends, was terrified when Lawrence demanded the girls exit the car and shouted that Yasmine should drive off.
Yasmine, Moon, and Samantha hosted a pool party at the LaRusso house on the last day of summer, and Moon filmed a classmate flipping into the water and cheered him on, until Daniel arrived home and demanded that everyone leave. That evening, Moon talked with Yasmine and Samantha about arriving to school the next day and briefly recalled the hit-and-run incident.
Moon, along with Yasmine and Samantha, attended the Halloween dance dressed as Laker girls and quietly mocked Aisha at the snack bar while Samantha and Kyler briefly left. She and Yasmine sent around a cruel meme comparing Aisha to a pig, much to their schoolmates' amusement.
Yasmine and Moon went to a concert together and disinvited Samantha, having believed a lie in which Kyler claimed that Samantha performed fellatio on him in a movie theater and considered herself superior to Yasmine and Moon. The latter two smoke weed in Moon's car and accidentally draw Lynn, a homeless woman, to them via eye contact.
Moon, Yasmine, Kyler, and his friends planned to host Yasmine's birthday celebration at a lake but arrive to find it crowded and with people whom Yasmine would have never invited. Moon sees Hawk in the crowd, is immediately attracted to him, and rushes to join him, claiming that she wanted a beer despite Yasmine's reminding that they had their own. Over the course of the night, Moon and Hawk begin kissing, and she apologizes to Aisha for her cruelty at the Halloween dance. When Yasmine demands that the two of them leave, Moon refuses and watches in silence as Aisha takes revenge on Yasmine by giving her a front wedgie.
Moon attended the fiftieth annual All-Valley Under 18 Karate Tournament with Demetri and cheered on Hawk. Her admiration of Hawk's looks led Demetri to reconsider taking lessons from Cobra Kai. It is currently unknown how she reacted to Hawk's disqualification for the illegal contact to Robby Keene in the semi-finals.
Appearances