Jurassic World: Dominion Dominates Fandom Wikis - The Loop
Play Sound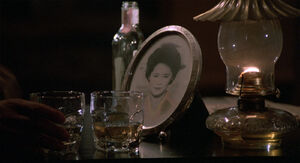 Mrs. Miyagi was the unnamed wife of Mr. Miyagi.
Biography
Little was known of her, except that Mr. Miyagi said she was a skilled seamstress. They met shortly after he fled to the United States over a disagreement of another woman. A younger Mr. Miyagi got a job at a sugar plantation in Hawaii, whereupon she was one of his coworkers, and they fell in love immediately, and soon married.
When the Second World War broke out, Mr. Miyagi enlisted in the US Army to support the war effort, eventually being promoted to sergeant. However, President Roosevelt ordered all civilians who had Japanese (as well as Italian and German) bloodlines to be interred, and Mrs. Miyagi was remanded to the Manzanar Internment Camp.
In 1943, Mr. Miyagi had gotten his wife pregnant, but was then deployed to the European theater immediately afterwards. Sergeant Miyagi fought valiantly against the Germans, being recommended for the Congressional Medal of Honor. His wife and baby were an inspiration for him to keep going throughout the dangerous situation, and he relished the idea of one day when his son grew up and he could teach him karate, as did his own father with him. However, Sgt. Miyagi was told of tragic news by his superior officer (possibly Lt. Jack Pierce); his wife was dead. While going into labor with the baby, she had complications, and there were no doctors to treat her.
It was unknown if a doctor was willing to go to Manzanar to treat a Japanese-American, given the general resentment of the American populace towards Germans, Italians, and Japanese (their three war enemies), or if that no doctors were available given that World War II was a time of great scarcity. Yet another possibility could have been an obstetrician was indeed alerted about Mrs. Miyagi's situation, but lost the race with time to try and help her and the baby. Either way, the fact his wife died with child and "no doctors had come" was a source of great sadness for Mr. Miyagi. Every year of the night of the communique of his wife and son's death, Mr. Miyagi would sing a Japanese song of sadness and drink a toast to them.
Although dead by the first film, Mrs. Miyagi would posthumously affect her husband decades after her death. Prior to her death, she had worked on a gi for her son, to be given to him when he reached puberty. The back of the gi was emblazoned with a bonsai tree, a symbol of the Miyagis. Mr. Miyagi eventually gave the gi as a birthday present to a student of his, Daniel LaRusso. Daniel-san marveled over this gi and asked where it came from, which was answered with "Mrs. Miyagi". Mr. Miyagi giving the gi that was intended for his blood son showed his feelings toward Daniel, who he valued to mentor as his own.