Jurassic World: Dominion Dominates Fandom Wikis - The Loop
Play Sound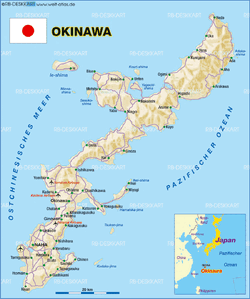 "In Okinawa... honor very serious."
Okinawa Prefecture (Japanese: 沖縄県 Hepburn: Okinawa-ken, Okinawan: ウチナー Uchinaa) is the southernmost prefecture of Japan. 
Several characters in The Karate Kid franchise are from Okinawa, including Mr. Miyagi, his family, Sato, Chozen, Yukie and Kumiko. Miyagi's Karate also originates from Okinawa. Okinawa is also the primary setting of The Karate Kid Part II, and was featured in Season 3 of Cobra Kai.
Description
"Okinawa very small place."
It encompasses two thirds of the Ryukyu Islands in a chain over 1,000 kilometers (620 mi) long. The Ryukyu Islands extend southwest from Kagoshima Prefecture in Kyushu (the southwesternmost of Japan's four main islands) to Taiwan. Naha, Okinawa's capital, is located in the southern part of Okinawa Island.
Although Okinawa Prefecture comprises just 0.6 percent of Japan's total land mass, about 75 percent of all United States military personnel stationed in Japan are assigned to installations in the prefecture. Currently about 26,000 U.S. troops are based in the prefecture.
Locations
Okinawa is located in the southern part of Japan. According to Daniel's book on Okinawan history, the biggest U.S. air base in the Pacific ocean is on Okinawa, Kadena Air Base. Mr. Miyagi's village, Tomi Village, is south of Naha along the sea. There was no airport in Okinawa when Miyagi originally left for America by boat. Tomi Village is a fishing village (including but not limited to mackerel), but after World War II, Sato's father brought in a big commercial fishing boat, and within two years, all the fish were gone. The cannery remains standing, however. As a result, most people went to Naha City for employment. Mr. Miyagi's father and other residents went into the vegetable business. Sato owned the farms, which were rented by the village.
In the village is a Miyagi's family dojo. Photos of 400 years worth of all of Miyagi's ancestors are on the wall, including Miyagi Shimpo Sensei, the first Miyagi to bring karate to Okinawa, who went to China in 1625. Shimpo Sensei was a fisherman who arrived at China by accident. Ten years later, he returned to Okinawa with a Chinese wife and two children and the secret of Miyagi-Do Karate: a pellet drum.
There is also a Shinto shrine in the village and a pillbox leftover from World War II.
The O-bon dance is for the festival in honor of the dead, which, as of 1985, is held in the ruins of the castle of King Sho Hashi, the Peace King.
In Naha City is an electronics store and Sato's Dojo, where Chozen Toguchi taught karate to American military police.
Appearances
Film Series
Trivia